House Bill 5 Evaluation Report
2016 Accountability Summaries
Links of Interest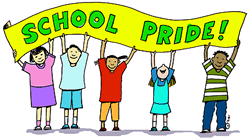 West Rusk Elementary Keystone Character Education
Character Counts
West Rusk Elementary is proud to join educators and students across the state in promoting character. We will be focusing on certain traits each month that will help us reach our goal to become better citizens and be accountable so that we may be the best we can be.
KINDNESS (September)
COURGAGE (October)
SELF-CONTROL (November)
FORGIVENESS (December)
RESPECT (January)
DILIGENCE (February)
LOYALTY (March)
HONESTY (April)
CONFIDENCE (May)





WELCOME TO WEST RUSK INTERMEDIATE

Intermediate Campus Plan
School Report Card 2016-2017
Federal Report Card 2017


Ace Facebook Page

We are happy to announce that the Texas Education Agency has awarded federal funding to the West Rusk Intermediate Campus in order to start a new after school program called ACE (Afterschool Centers on Education). The basic program requirements and offered activities will focused on the areas of tutorials for students before and after school; enrichment activities for students to explore such as science, technology, art, music, etc… and activities and training that help families support their students to be successful at school.
Students who will be enrolling in grades 3-5 for the upcoming school year will have access to this program free of charge. For more information and student enrollment please stop by the ACE booth that will be set up during registration day on Wednesday, August 1st.