West Rusk CCISD Police Department
WEST RUSK CCISD POLICE DEPARTMENT
10705 S. Main St. / PO Box 168
New London, TX 75682
903-392-7860 FAX 903-392-7866
"Support the mission of the District by ensuring a safe learning environment."
Mission: The mission of the West Rusk CCISD Police Department is to partner with students, families, and staff to promote a safe learning and working environment, conducive to pursuing exemplary achievements.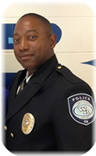 Chief Thompson earns Doctorate Degree
WRCCISD Chief of Police Paul Thompson recently earned his Doctorate of Management Degree from Colorado Technical University. In addition, he earned his Masters of Science Degree in 2013 and Bachelor of Science Degree in 2010 from CTU. Mr.Thompson also earned an Associate of Arts Degree from Kilgore College in 1989. 
     Chief Thompson, whose family has been in the New London area for over 120 years, was a student at West Rusk and all three of his children are graduates of West Rusk CCISD.  His qualifications are numerous and he has shown commitment to the New London community and West Rusk.  He has served as Chief of Police for the WRCCISD for the last three years and prior to that he served as Chief of Police for the city of New London.  His work experience includes: Rusk County Sheriff's Department, Gregg County Sheriff's Department, City of New London, and the City of Easton. 
      At a Special Called Board Meeting on February 5, 2013, WRCCISD created a Police Department pursuant to the Texas Educational Code and
one month later
the Board of Trustees approved hiring Paul Thompson as the district's new Chief of Police. Paul began immediately to write the WRCCISD Policy and Procedures for our own Police Department. During the last three years, numerous school districts have come and visited with Chief Thompson seeking information pertaining to a School Police Department.
      The WRCCISD is very fortunate to have Chief of Police Paul Thompson, leading our district in this day and time. West Rusk Police Chief Paul Thompson was elected Vice President of the 3,000 strong members of the Texas Police Association. Chief Thompson expressed his desire in this quote, "I have a vested interest in the success of this school district, our community and every student that we educate.  The education of our children is one of the greatest investments we will ever make. I desire to help promote a safe environment for our students and the school district."
Police Department Frequently Asked Questions

Police Chief: Paul Thompson - thompsonp@westruskisd.org