News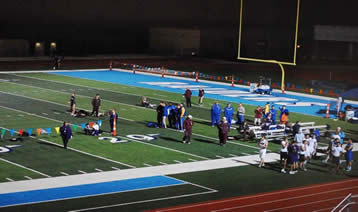 First Track Meet on new track a huge success. Alison Nutt wins IRON MAN award with 42 pt. for the Varsity girls.
March 26, 2013 7th Grade Boys district runners up,
Gold medal winners are
High jump Jessie Beall
400 Meter Relay Easley, Rodriguez, Davidson, Beall
800 Meter Relay Osteen, Easley, Rodriguez, Beall
200 Meter Run Jessie Beall
High School FCCLA students attend Regional Leadership Conference in Irving, TX 2/28-3/2.



At Regional UIL solo contest on Friday several choir members competed: Ryan Forshee, Haley Thompson, Rustan Gerhardt and Charlsie Webb got ones on their first division solos and advance to State in May. Sarah Richmond got a one on her second division solo. Rachel Davidson and Amberly Jackson each got twos on their solos.
Top 10 Intermediate Accelerated Readers. Great work.
Meghan Jennings 139.7, Frida Rodriguez 132.9
David Mata 113.1, Braden Read 108.9
Brayden O'Dell 106.9, Baleigh Davis 97.5
Alyssa Ross 93.4, Raley Jones 93.1
Dustin Griffith 84.8, Tierra Dixon 81.4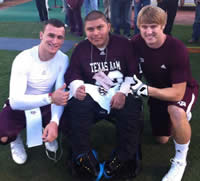 West Rusk Raider Francisco Bazaldua and the Aggie quarterback, Johnny Manziel, 2012 Heisman Award winner, and receiver Ryan Swope. A special treat for a special young man.
Parents Survey: Speak Up 2012 - National Survey


Select the state and then type West Rusk, you will next select your students campus from a list of the 4 at West Rusk. (During the survey you will be able to select more than one campus.) Complete the survey; it will take about 20 minutes.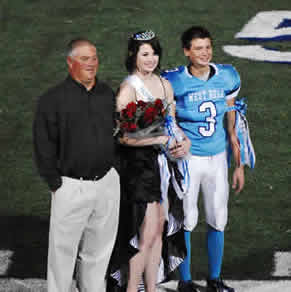 Ashley Tarbutton 2012 Homecoming Queen

Jo Ann Cooper Honored Employee 2012.
Then the lights went out.




October 10, 2012 Fields of Faith
at West Rusk Bruce Bradshaw Stadium.
Congratulations to Kayla Cochran (8th grader) who won 1st place in the State Fair held earlier this month for her picnic table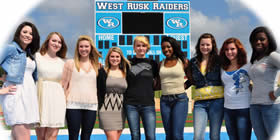 2012 Homecoming Court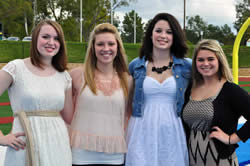 Seniors Duchesses
Bruce Bradshaw Family at Ceremonies Friday, August 31, 2012.

New London to be lit up, tonight May 8, 2012.
New Stadium Lights to Begin Burning-In Process
24 hours@day for 5-7 days.
Ground Breaking Thursday, Feb 2, 2012.



Official Ground-Breaking Ceremony for our new facilities, February 2, 2012 at 2:00 PM at the stadium was a wonderful success.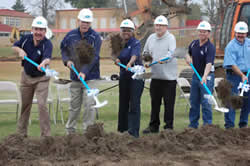 School Board turning the dirt.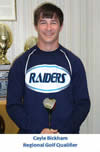 Cayle Bickham, Regional Golf Qualifier Junior High Band earns all 1's at Concert Contest. Excellent Job Raider Band.
Aubrey Okray has been selected to the TABC all-region basketball team for the third consecutive

year and she has been selected to play in the Azalea Orthopedic Senior All-Star game on April 14th 5:30 at TJC. Congratulations Aubrey.
Elementary Safety Poster Winners> more
Elementary Events Schedule>more



West Rusk Elementary students

raise $2600 for Jump Rope for Heart.
West Rusk cafeteria received another perfect score. The ladies do a wonderful job making sure that the food that we serve our students is as safe as it can be.  A BIG "pat on the back" for all the cafeteria ladies.
New Flags on campus

New District Plan of Action available on the administration page. >more
New Signs going up around campus:


New Link for teachers on the Teachers page. > more.
New Link for Home Connect allows parents to see progress of their students in Accelerated Math and Reading online.
Lady Raider Basketball team members who made the all-district basketball team.
First Team:
Aubrey Okray (SR)
Sarah Buckner (Soph)

Second Team:
Taylor Thomas (SR)
Malorie Herron (JR)
Tierney Reddic (Soph)

Honorable Mention:
Brooke Sanders (SR)
Tierra Wilson (FR)

Rustan Gerhardt and Haley Thompson advanced to State in Choir Solos
Congratulations
Band Concert and Silent Auction Pictures now on Smugmug
Congratulations to the West Rusk FFA Chapter on their winning Grand Champion - Best of Show- Breeding goat projects at the East Texas State Fair. The Chapter also won reserce Champion Breeding Goat. These goats were bred by the West Rusk FFA Chapter as part of their Breeding Boer goat herd. The Chapter is very proud of this accomplishment and is looking forward to raising more winners.


Proposed view of stadium turf and surface
DO NOT ENTER THIS AREA OF CONSTRUCTION


Thank you for adapting as we begin the initial phases of construction as a result of the bond passing!

Christmas tree in Admin building.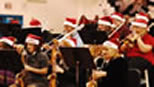 Stage Band shines during annual Christmas Concert.
Christmas Concert 2011 was a Wonderful Delight for all.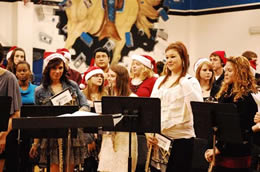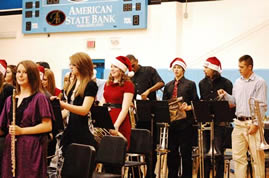 Raider Band held their annual Christmas Concert, Spaghetti Dinner and Silent Auction on December 1, 2011. Flyer
WEST RUSK VOTERS PASS BOND!


THE LONG WAIT IS OVER AT THE ADMIN BUILDING>more
New Proposed Bond Information available on BOND INFORMATION LINK:BOND
Mr. Alexander's Letter. >more
Letter from Mike Cline to the WRCCISD community. >more
Bond Brochure available > here
November 8, 2011 Bond Election Day.

Homecoming 2011 Queen


Aubrey Okray
Also honored were former teacher/administrator Janis Underwood and former board members Curtis Reddic and Janet Jackson at halftime of the game.  All three of these fine people served this district with distinction for many years and certainly paved the way for the rest of us to play a small role in "Where the Best, Just Got Better". 
New Football Schedule available>here
Got Facebook? See our Facebook icon below to join! Be sure to join us on Facebook for the latest announcements for your school.

Fire Danger Extremely high: "We need our residents to avoid any activity that would lead to a spark. If you see someone doing something that could lead to a fire or acting suspiciously, please report them to your law enforcement agencies. This is absolutely not a time for people to be careless." Mayor Jay Dean.
A BIG congratulations goes out to all our cafeteria ladies 2011.  We had our first of two "surprise" health inspections in the cafeteria and.....we had a perfect score! 
Backpack's for kids: There is a spot to type in WR Elementary as the agency in which you want your donation to go towards.
Bond Hearing August 8, 2011, 6:00 in the cafeteria.> more
The UIL Contest recordings of the 2011 West Rusk High School Band have advanced to Area in the TMEA Honor Band and in the Outstanding Performance Series Competitions. At the OPS Competition, West Rusk High School Band placed 1st out of 9 recordings submitted by other bands in our region. This earned us a spot at the Area Competition on Monday, June 20th. At the TMEA Honor Band Competition our overall UIL Contest recording came in 2nd place and also advanced to Area, which was held Tuesday, June 21st.
The West Rusk Junior High Band's recordings have also advanced to Area in the Outstanding Performance Series Competition. They were judged also on Monday, June 20th.
Archived 2010-2011 News >more