Raider Band 2016-2017

Chief Thompson earns Doctorate Degree

Phone Number for West Rusk CCISD 903-392-7850
FAX NUMBER FOR ALL CAMPUSES
BEGINNING MAY 24, 2016
903-392-7866
The Original Friday Night Lights
New London, Texas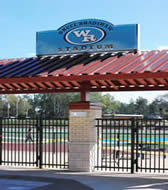 Old Yearbooks available in the High School Office

2008 - 2015 are $30.00 each
1966 - 2007 are $25.00 each
ALMA MATER

Homecoming parade information: Friday: Not an early release day!
2:00 Line-up for those participating in parade
2:30 parade finishing at football stadium
3:00 pep rally
End of first six weeks!
Monday, October 3, is a teacher In-service day. No School for Students.
Woohoo! We met standard in all areas of our accountability!
2015-2016 A great school year for WRCCISD
"To view the 2016 state
accountability ratings and
distinction designations for all
districts, charters and
campuses, visit the Texas
Education Agency website at
http://tea.texas.gov/2016
Accountability.aspx"
Athletic Paper Work:
Rank One Sport Online Forms
Pre - Participation Physical Form
Transition in Texas


View All News

Family Portal to Skyward Access